The value of experiencing attractions from the guest perspective
A volcanic experience on the cutting edge of design – and a perfect little brand land. Contrasting visits to attractions this year and the value of the guest perspective
Doing what I do, I often find myself looking at attractions from behind the scenes, out of season or when they're closed (or saddest of all, when they have been closed down); or otherwise, when they are just an idea in a sketch book of the designer or in the mind of the owner.
If you're not careful, that can give you a very skewed view of how an attraction is received by its audience. It's a bit like the queen always visiting newly-opened buildings and wondering why everywhere she goes, it smells of fresh paint!
The value of the guest perspective
So, I find it really helpful to take some time out to go and experience the guest perspective. Just like everyone else, I buy a ticket and take whatever experience the staff want to offer me. That usually means visiting during the occasional holiday. And over the years, my family have got pretty used to frequenting a bizarre selection of attractions on the whim of their father. In 2018, I made the effort a few times and a couple in particular have stuck with me.
First, a trip to Iceland in April. It is one of the most incredible, stunning and rapidly growing (in every sense) destinations in the world. One of the things that really struck me about this amazing country is that many of its most iconic visitor destinations and attractions can be experienced absolutely free of charge; not even a charge for car parking in many instances!
What a huge contrast to the United Kingdom. For example, where our National Trust and English Heritage charge for access, parking and all the other services they offer; just like any commercial attraction would (and, wearing our Petersham Group consultant's hats, doing exactly what we would normally advise!).
Iceland for free
However, in Iceland, you can walk completely gratis alongside spectacular waterfalls like Gullfoss and Skógafoss; up glaciers such as Mýrdalsjökull and Sólheimajökull; and on spectacular black lava beaches like Dyrhólaey. Not forgetting of course the hot springs and geysers of the Geysir Geothermal Field. It has fabulous tourist facilities; which include an excellent shop and café / restaurant that shame many we see here in England.
Taking these world-class sights into account; together with all of the free-to-visit attractions available to visitors in Reykjavik; I feel it was fair to say that whilst Iceland has a reputation for being expensive, these free attractions put the overall cost of a visit there into some perspective. Food and drink may indeed be expensive; although arguably for the most part, on a par with what you would pay as a tourist in London. However, the savings on visiting attraction experiences are significant; especially when there are 5 of us travelling.
Iceland Volcano and Earthquake Centre – LAVA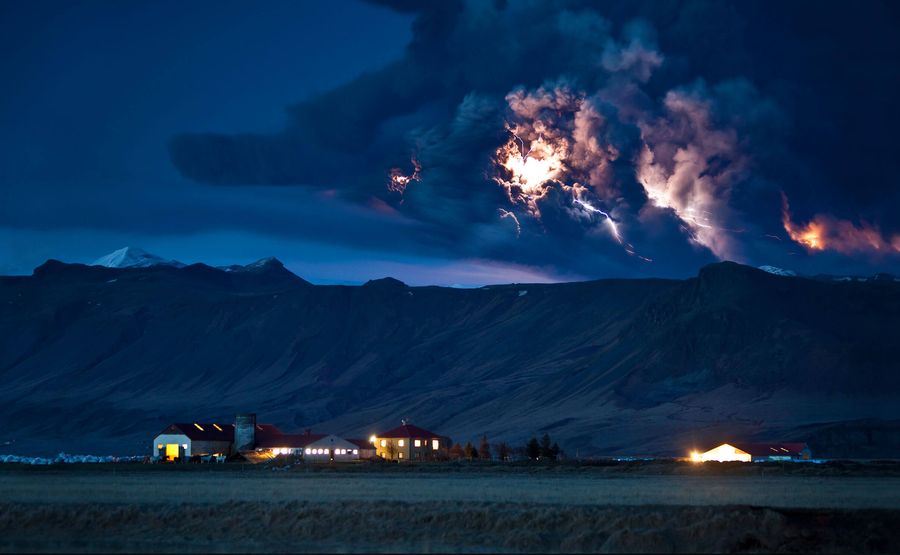 Driven by my daughter's fascination with the 2010 eruptions of the volcano, Eyjafjallajökull; which may have left many of you somewhat inconvenienced when it grounded air travellers all over the northern hemisphere; we went in search of the visitor centre that opened in 2011 to celebrate and document what had happened. However, once there we found it had been closed and replaced by a much larger, purpose built attraction called LAVA; the 'Iceland Volcano and Earthquake Centre', located in nearby Hvolsvöllur.
Situated two hour's drive east of Reykjavik, the town is particularly well chosen as a location for such an attraction; standing as it does in the shadow of five of the country's most prominent volcanoes. These include Katla, Hekla and Eyjafjallajökull itself. From nearby too, one can access the ferry to the Vestmannaeyjar (Westman Islands); the largest of which, Heimay is now home of course to Merlin Entertainment's Sea Life Trust open water sanctuary for beluga whales, as well as itself being the scene of a massive eruption in 1973.
Getting to LAVA

Standing outside the old visitor centre in driving sleet, we made good use of Iceland's excellent mobile phone network to book our tickets via the attraction's excellent website.  After several days of enjoying the equivalent of a tourist's 'all you can eat free buffet', it was a bit of a shock to find admission charge of ISK 3200 ($26 or £21) for each of us. Nevertheless, we decided to go ahead and make the visit anyway.

Getting there by car was very easy; simply a matter of following the main island ring route, Highway number 1, to Hvolsvöllur, where the Lava Centre, designed by Basalt Architects of Reykjavik, is easily found. Basalt Architects are well known in Iceland and have a number of prestigious projects in the leisure and hospitality sector. Most recently, they completed work on the stunning The Retreat at Blue Lagoon.
For the Lava Centre, they collaborated with design studio, Gagarin. With their responsibilities including exhibition design and interactive media, the impressive outcome was rewarded this year with a Red Dot Award for "User Experience and Interface Design" and "Exhibition Design" at the Red Dot Award: Communication Design 2018 held on the 27th October in Berlin.
Point and learn!
The Lava Centre describes itself as "an interactive, high-tech educational exhibition depicting volcanic activity, earthquakes and the creation of Iceland over millions of years"; which pretty well sums up the offer. The centre is divided into 4 main exhibition halls with 'scenic corridors' linking them. It offers a highly interactive and a very educational visit. It is also enough fun to cause a few smiles and entertain a group of 5 adults on a cold, out of season Icelandic afternoon.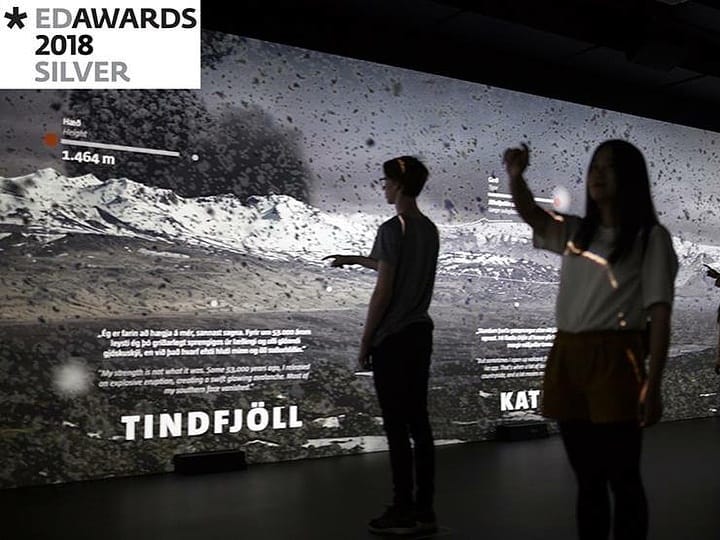 The highlight for us was a hall with a panoramic image featuring the 5 massive volcanoes visible from Hvolsvöllur. Here, visitors can point at the image of their chosen volcano on the wall, and call up graphics and video depicting the eruptions and key facts about each one. This leads to a room full of people seemingly dancing in a weird kind of silent disco; but is quite compelling! By cutting out the use of screens in favour of these massive whole-wall effects, Gagarin have made the experience far more social and therefore enjoyable, particularly to family groups. A separate cinema offers a 12-minute film with eye witness accounts of the most recent eruption at Eyjafjallajökull.
A visitor centre is not complete without souvenirs and food

There is a good quality gift shop with great local souvenirs and a restaurant and café (the Katla Restaurant); which, with seating for 260 and staff to match seemed rather over-specified for the handful of visitors present when we visited. However, based on what we saw at Geysir, I can imagine that when the coaches stop off, it gets pretty busy and needs all those covers.
Nonetheless, it must be quite a challenge keeping all those hands busy at other times; not to mention a considerable cost to carry. The centre opened in mid-2017 and has yet to release year 1 attendance figures. It will be very interesting to see how it performs, positioned in the niche between spectacular free to view, natural wonders and expensive but very personal guided experiences such as snowmobiling on glaciers or ice diving.
The historic town of Sault, Provence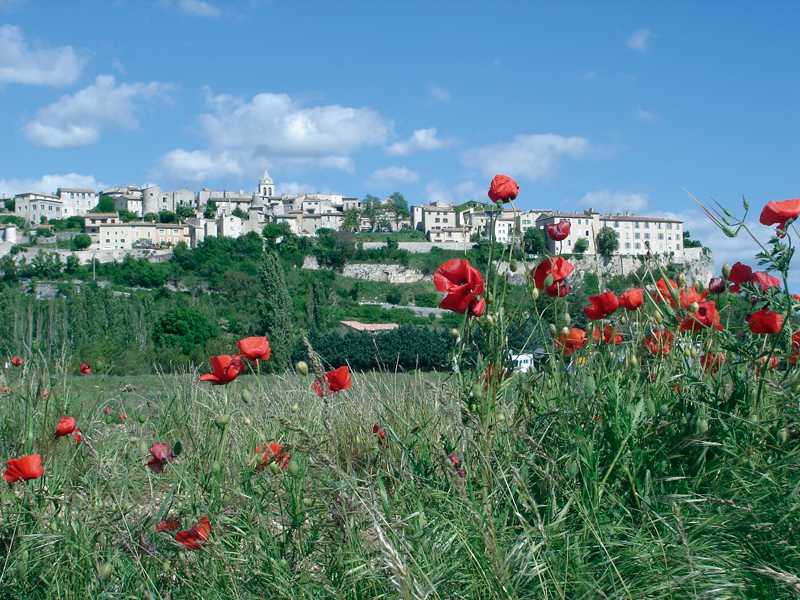 Having experienced a brand new, purpose-built and highly-designed attraction such as LAVA, it was interesting later in the year to experience something far more homespun; visiting a site which has become an attraction almost by default. Located in the shadow of Mt. Ventoux in rural Provence, the beautiful market town of Sault is a historic location. It has some of the oldest and most established growers of lavender and other aromatic herbs and flowers for the top perfume houses of France and Italy.
Many of these offer 'buy at the gate' opportunities; but we were keen to see more and to find out how the valuable essential oils are produced (as well as sampling the end results!). We chose Distillerie Arôma'plantes located about 2km out of town on the Route du Mont Ventoux. And we were treated to the kind of visitor experience that many attractions spend millions to achieve!
Aroma'Plantes Lavender Distillery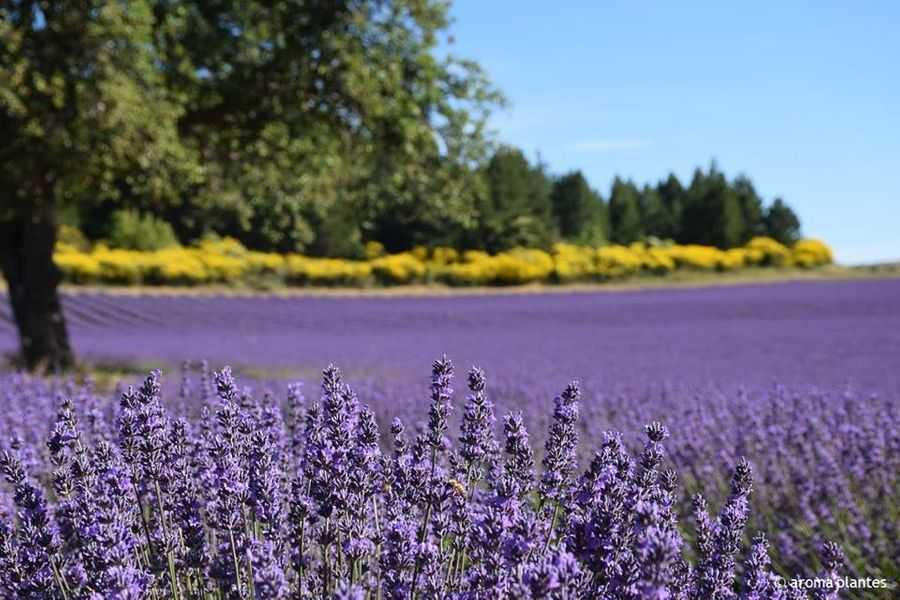 Parking between Quince and Walnut trees, we found that entrance to the property; an ancient Provençal farm or Mas, is free; as are the tours of the lavender distillery. This is always guaranteed to get a visitor in a good mood! Tours take place hourly and are available in French and English. Furthermore, while waiting for the tour guide, visitors can enjoy the delights of the 'Plantothèque'. This is a themed garden area showcasing over 30 of the aromatic plants used in perfumery. These plants are cultivated either at the farm or on other nearby plots in the mountains.
In addition, visitors can experience the 'Lavandoscope'; an exhibition sited in the upper part of the distillery. This exhibition explains the history and uses of Lavender, and utilises a mix of graphics, archive images, historical artefacts and simple 'hands -on' exhibits. The whole farm meanwhile, is suffused with the heady scent of lavender; calming and slightly soporific!
Passion in the center of it all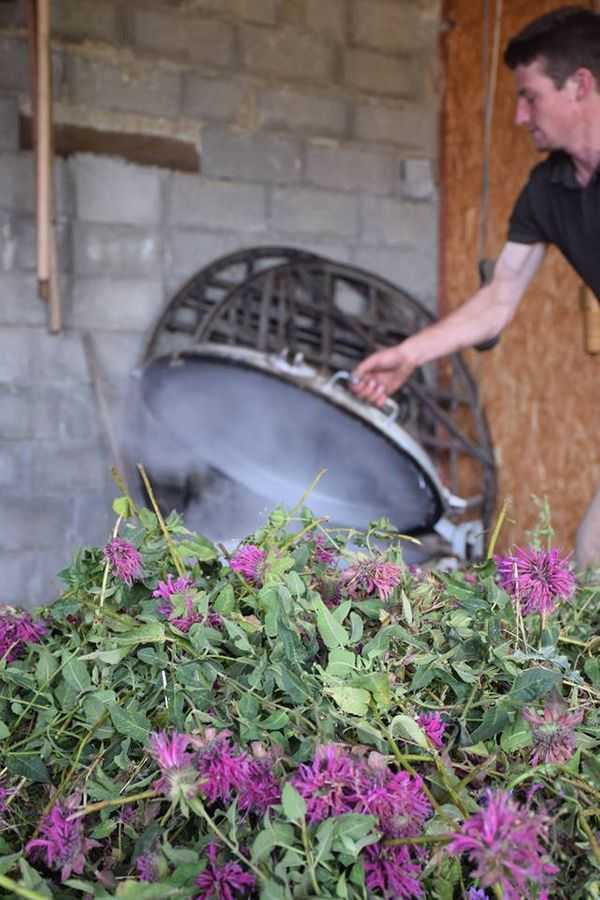 The high point of the visit (for me at least!) was the tour of the distillery. Conducted in perfect English for the two of us, we were taken through the process by one of the Liardet family owners and operators of the distillery; a woman who was clearly completely passionate about her family business. This visit stood above so many others that I've undertaken this year. It was because of the sheer enthusiasm, love for her subject and dedication which shone through and brought what might otherwise be a pleasant rural diversion to life in a very personal and memorable way. What's more, at the end of it all, I really felt that I'd learnt something!
I also went on to learn another lesson; which is that the true cost of the visit would be felt in the size of the bill relating to purchases in the producer's shop afterwards. But what an interesting business model this is for a small attraction, based on local products. A visitor could, in theory, take advantage and experience the whole visit free of charge. However, I doubt that there are many who would come away without having spent extensively on the merchandise in the shop and maybe in the small café with its charming alfresco dining area. A perfect little brand land in fact!
Images credit: Inspired by Iceland, Lava Centre, Office de Tourisme Intercommunal Ventoux Sud, Aroma'Plantes.
This blog piece first published 2nd November 2018 on Blooloop